Step-by-step application guide for UTAP (Union Training Assistance Programme)
Union Training Assistance Programme (UTAP) is a training benefit for NTUC members to defray their cost of training. This benefit is to encourage more NTUC members to go for skills upgrading.
UTAP supports NTUC Members with 50% reimbursement of the course fee paid out-ofpocket, capped at $250 per calendar year. Course fees includes GST and excludes materials, registration fees, other miscellaneous fees, etc.
NTUC Members aged 40 & above can enjoy enhanced funding via Enhanced UTAP where the UTAP cap is increased to $500 per calendar year. It is only applicable to courses attended between 1st July 2020 to 31st December 2022.
CRITERIA:
Maintained paid-up NTUC membership throughout the entire course duration and at the point of claim;
Course by training provider must be supported under UTAP and training must commence within the supported period;
The course must not be fully sponsored by the company or other types of funding;
Member must achieve a minimum of 75% attendance for each application and sat for all prescribed examination(s), if any;
UTAP application must be submitted within 6 months after course completion
Courses supported for UTAP funding:
Master of Arts in Psychotherapy
Certificate in Child Psychology and Counselling
Certificate in Learning Disorders Management and Language Development
Diploma in Learning Disorders Management and Child Psychology
Diploma in Disabilities Studies
Diploma in Education (Special Needs)
Advanced Diploma in Special Education
Postgraduate Diploma in Special Education
Diploma in Counselling Psychology
Advanced Diploma in Counselling Psychology
Postgraduate Diploma in Counselling Psychology
Postgraduate Certificate in Therapeutic Play Skills
Professional Certificate in Speech Therapy Assistance
Searching for a course
Step 1: Go to http://skillsupgrade.ntuc.org.sg
Click 'Skills Upgrade Available' to search for approved UTAP Training Providers and Courses.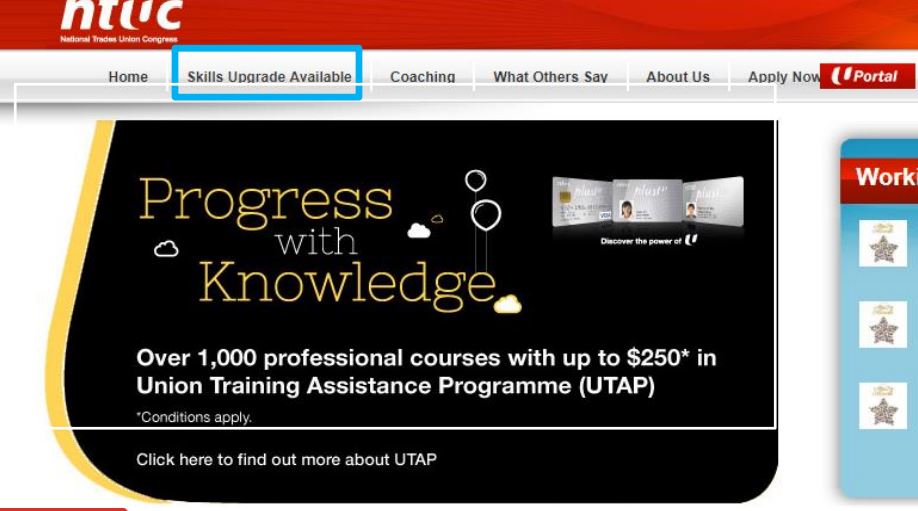 Step 2: Go to "Search Course" to search for approved UTAP Training Providers or Courses.
Steps to apply for UTAP
Step 1: Go to http://skillsupgrade.ntuc.org.sg Click 'Uportal' to log in.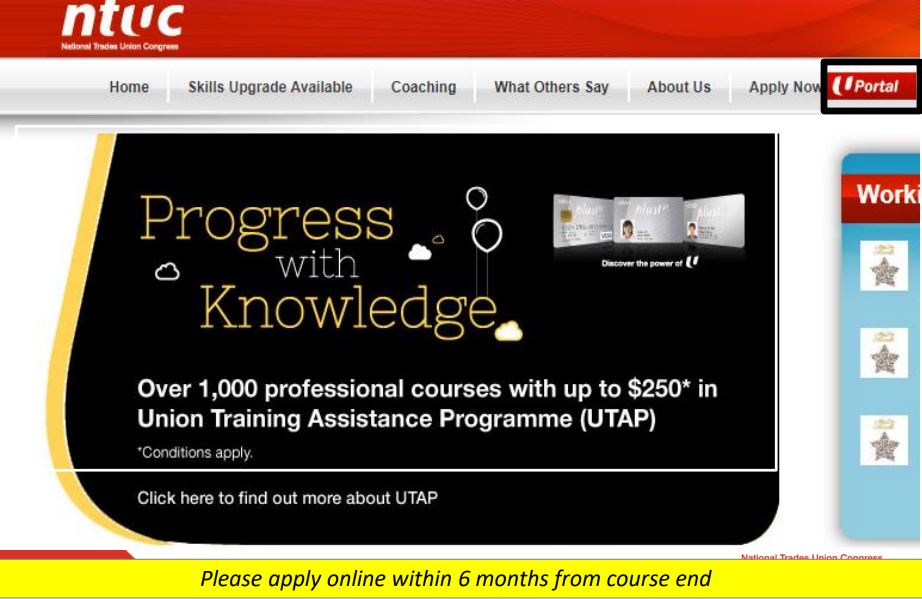 Step 2: Login to your U Portal account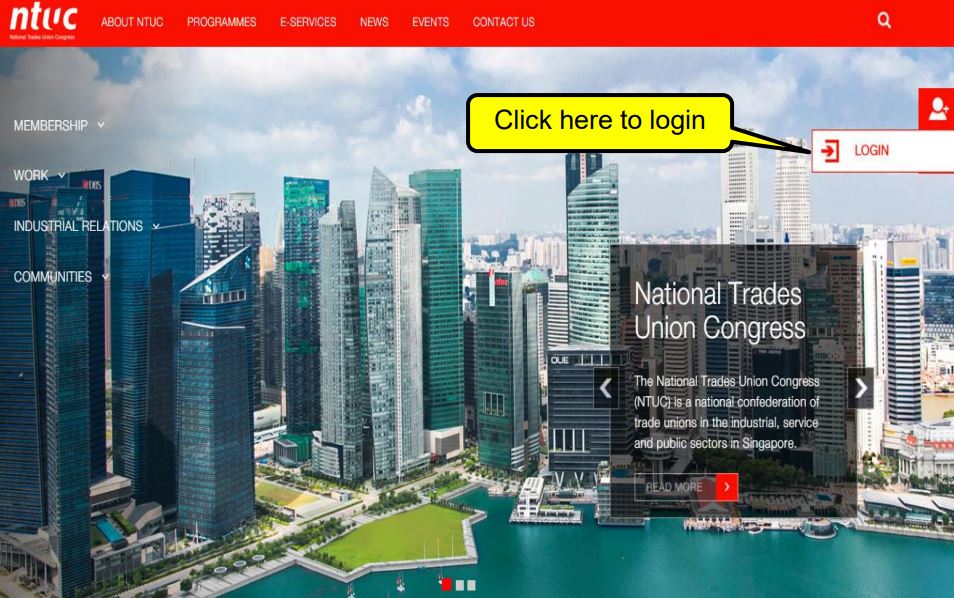 Step 3: Choose either SingPass Mobile or Uportal Account to login.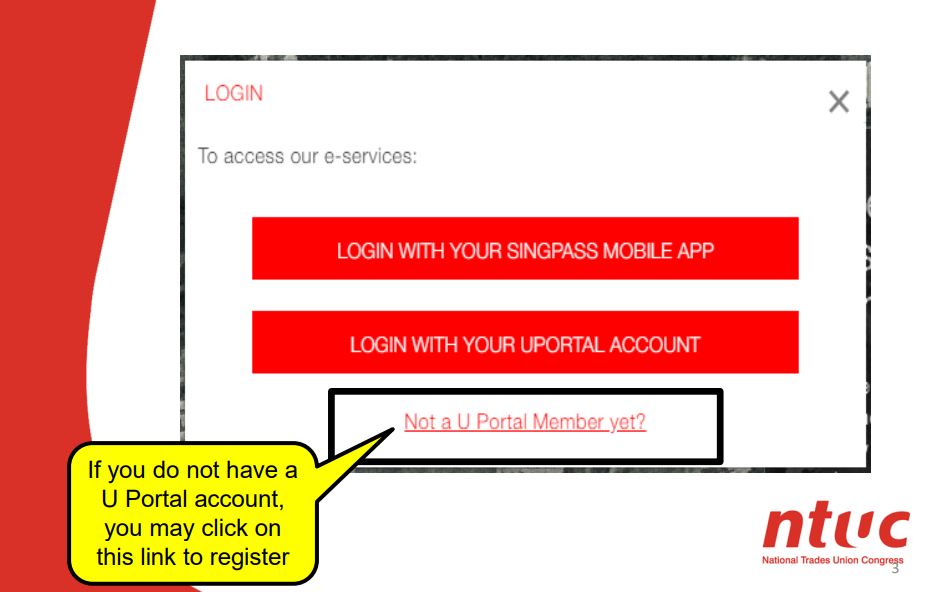 Step 3a: Login via SingPass Mobile App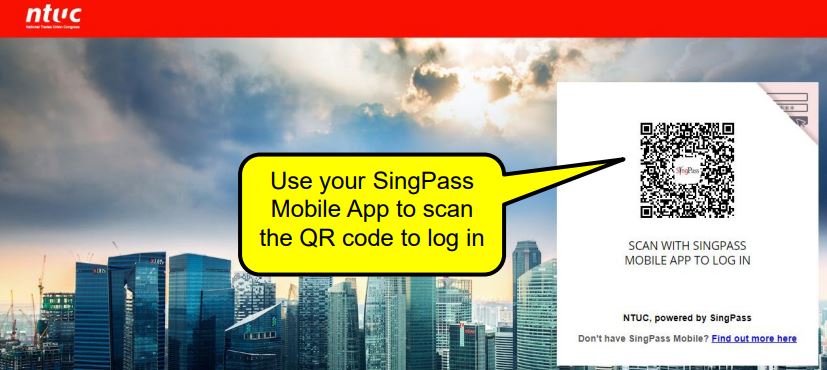 Step 3a: Login in with Uportal Account
Step 4: Click on e-Services, UTAP Application
Step 5: Click "Read More" to proceed
Step 6: Declare membership status before proceeding. Check on either box and click "Submit". If non-member, you will be directed to membership sign up page.
Step 7: Fill in your course information
Step 8: Check that your particulars are correct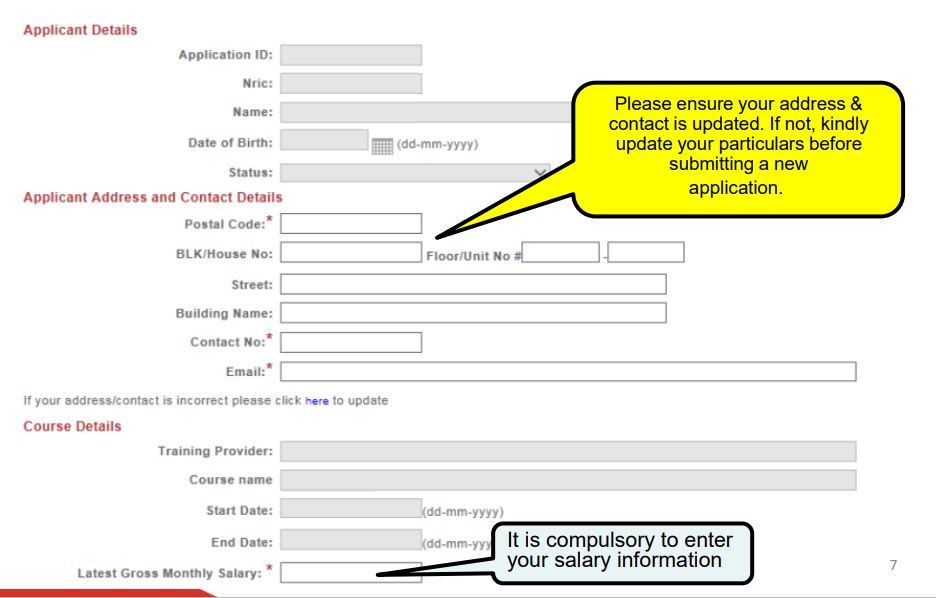 Step 9: Ensure your bank account information is correct. Click "Submit" once you have completed all compulsory fields.
Step 10: When you're ready, click 'Submit'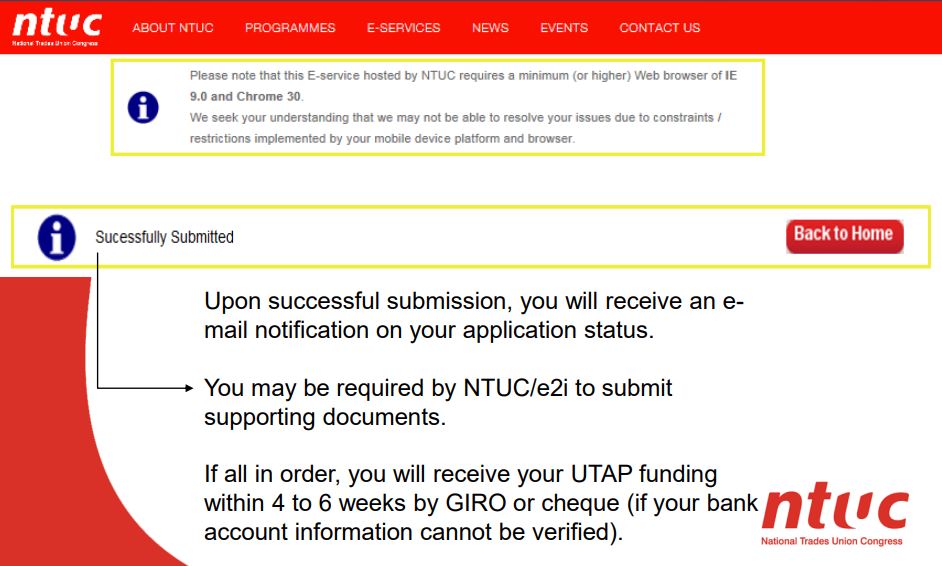 To check the status of your claim:
➢ Go to the 'E-SERVICES' tab at Home Page.
➢ Click on 'eStatement' and select "UTAP Balance"
Note 1: Error Messages
Note 2: If you have membership arrears or inactive membership, you will be prompted with a message.
You can click "Continue" to proceed with your UTAP application, which will be on-hold until you have cleared your membership arrears.
In the meantime, please contact NTUC Membership at membership@ntuc.org.sg or your respective union (Ordinary Branch members) to check on your membership status.
Clicking on "Cancel" will bring you back to Home Page. No application will be submitted.
For more information, please contact:
Membership Enquiries:
Email: membership@ntuc.org.sg
Hotline: (65) 6213 8008
Ordinary Branch members can contact your respective union for assistance.
Course Funding Enquiries
Email: UTAP@e2i.com.sg